Vern Halter arrived in Alaska in 1977, and has since competed in 18 Iditarod® races and 6 Yukon Quest races. Vern grew up on a farm in South Dakota and relocated north to Alaska right out of law school. He worked for the State of Alaska as a law clerk, a magistrate judge and a public defender, but sled dogs soon became the center of his life. His friend David Monson, who married four time Iditarod Champion Susan Butcher, inspired him to run his first Iditarod in 1983.
Iditarod® Finisher & Yukon Quest Champion!
Halter boasts 9 top ten Iditarod® finishes, taking 3rd-place in 1999, finishing the 1,151 mile course with a time of 10 days, 6 hours, 25 minutes and 40 seconds, and is the 1990 Yukon Quest Champion. He has logged well over 300,000 miles on the trail, while racing and training sled dogs.
Dog Sled Trainer & Breeder
Vern and his wife, fellow musher and veterinarian Susan Whiton started their first Alaska sled dog kennel in 1983, and continue to breed and train racing sled dogs at their Willow homestead to this day.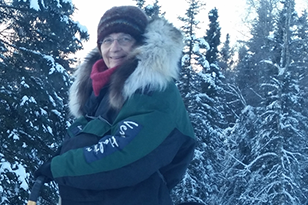 Dr. Susan Whiton
Owner & Veterinarian
Cindy Abbott
Guide & Booking Manager